Profession
UX/UI designer
UX/UI designers are some of the most in-demand IT professionals. They design user interfaces and visual elements of applications and websites, striving to make them convenient and aesthetically appealing for the user. Join a UX UI design course and master this in-demand profession from scratch!
Practice
From the second week of training
Grant
of 50% for each student
Country
Azerbaijan, Ukraine, Kazakhstan, Latvia, Lithuania, Estonia, Other
This profession is for those who: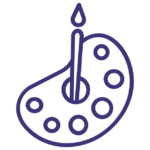 Love creativity and want to earn from their hobby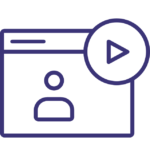 Desire to create convenient and intuitive online resources for users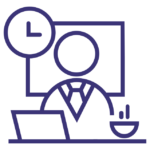 Prefer to work remotely and have a flexible work schedule
How to start a career in IT?
2
Get a grant that covers 50% of your tuition
3
Learn a new profession online
4
Take an internship in a virtual laboratory
5
Complete an internship on a real project
Leave an application and receive a grant covering 50% of the course cost!
Course program
Introduction to the UI/UX design profession

UI designer tools and skills

UX designer tools and skills

Introducing design: design structure

Design principles

Basic concepts of design theory

Interface styles

Design concept
Introduction to Figma

Figma interface overview

Using grids and alignment in Figma

Components and adaptive design in Figma

Text edit modes in Figma

Color edit modes in Figma

Creating effects in Figma

Advanced Figma user

Import and export in Figma

Figma additional features and options
Design as a product

Learning design systems

Process design: research and prototyping

Digital product development and support

Analytics and design

Development process

Final structure of the designer's work in the company

Client design briefing

Designer development directions
Introduction to UX Design

Design thinking

UX design process

Inclusive design

Standardization of the user interface

Qualitative and quantitative research

Research tools

Mobile UX/UI
Introduction to UI Design

Brandbook

Interfaces
Prototyping with animation in Figma
Introducing designers' role: teams they work with, their duties, and tools

Career scope of a designer

Communicating with the client, introducing and selling yourself: what to say and what not to mention

Advantages of being an entry-level designer

Working with clients

Working with foreign clients and payment systems

Requirements of potential clients

Client briefing

How to create a requirement specification and coordinate it with the client

Editing

Submitting the final work: forms and acceptance criteria

Selling additional services
Introducing Tilda interface

Setting up a website on Tilda: basic options

Creating a website on Tilda: standard blocks

Setting up a website on Tilda: Zero

Assembly and setup

Updates and new Tilda features

Additional privacy policy
Portfolio workshop

Drafting and creating a price list

Finding your first job

Crafting Behance and LinkedIn

Creating a career development plan
Emotional intelligence

Internal/external focus

Self-confidence

Goal-setting

Initiative

Creativity

Responsible approach to work

Time management

Leadership

Communication

Solving conflicts

Teamwork

Business etiquette
What will your resume look like after training?

Hard skills
Audience research and analysis
Competitive environment research and analysis
Hypothesis construction
Design and prototyping
User interface testing
Design thinking
Visual communication and UI: composition, color, typography, and basic understanding of fonts
Mastering Figma
Animation
Branding
Tilda
Soft skills
Being a team player
Empathy
Critical thinking
Creativity and creative thinking
Goal-setting
Time management
Advantages of training at DevEducation

Ability to study from anywhere in the world at a convenient time

Practice from the first classes and the creation of a quality portfolio

Training is systematic and conducted by experienced IT-specialists
Student Feedback
Polina Gerasimova

Frontend Developer

The course is well-planned, there are video lessons, reading materials and practical assignments. We had daily meetings with the expert on weekdays, where we could ask questions. If something wasn't clear, they always helped. I also want to mention the excellent work of the course supervisors. Always supportive, always kept in touch, and helped with all questions. I really liked the course. Especially the projects in the virtual laboratory. They were very interesting, you had to think for yourself and come up with some solutions. I think it was a good course to enter the IT sector. That's why I recommend it to everyone and wish you good luck!

Liya Ivaninskaya

Project Manager

Despite the fact that in the past I already had experience as a packaging manager (very similar to PM role), the course surprised me. I did not know that the leadership style could be changed. I thought that some people are gifted and some are not, for example, to inspire people to follow themselves. But the course made me realize that there are tools for that, and it is possible to practice and achieve your goals. I went to the course having a test project. And, for the sake of the experiment, I began to do everything in accordance with the advice from the course. It is amazing: you just take it and do it, and the path from the idea to the finished site lies under your feet. In fact, finding a new project is not a problem after the course. Now, looking through the vacancies for the PM role, I can say: "Yes, I understand it, I know these words, and I know what to do with it and how to work".

Mariia Spivak

Java Developer

I graduated from the DevEducation course in Java. Immediately after completing the course, I was invited for an interview with a company, which I successfully passed, and now I am finishing my probationary period. It is very valuable that the courses were taught by guys who work as developers. They shared invaluable experience and knowledge, were always in touch and answered all the questions that came up. After the first lesson, we already started to practice, and at the end of the course we created a whole project as a team. The school really promotes real IT specialists and gives a chance for interesting and promising work.

Anastasia Koval

Project Manager

I found out about courses from DevEducation through their instagram page. During my studies, there were many new things for me. Some stuff was absolutely unknown, but İ knew a few things already and thanks to the courses I deepened my knowledge. The course is very condensed, in just 5 weeks we managed to go through what one would normally do in a year of study. Everything that we learned was very practical, not theory, but taken from real situations. This is due to the fact that all the teachers are acting PMs in different companies. I am grateful for the experience they gave us.

Violette Kuzmenko

QA Automation Engineer

I came to DevEducation as a newcomer to IT. I gained a lot of theoretical and practical QA skills which I can easily apply to my current work. DevEducation not only gives you experience, but also the opportunity to realize your potential. This enables you to become a professional and reach greater heights. Don't be afraid to start something new — try it and you won't regret it.

Victor Zozulya

Java Developer

I worked as a bartender for a long period, but had also wanted to try out IT for a long time. What matters at DevEducation are the people. The head of the academy personally spoke with me in the interview, and I felt supported by all the staff throughout training. The teachers placed great importance on quality training and the ability to find a job quickly and efficiently. I'm now a software developer and my work has given me the chance to learn multiple libraries and languages. But it was DevEducation that laid the foundation for all of this!

Valentin Zuev

QA Automation Engineer

Before joining DevEducation, I worked a lot of jobs — courier, sales representative, online store manager, and content manager. But in each of them, there came a moment when I realized that I was no longer advancing. Then I decided to find a field where there would always be opportunities to grow, so I chose IT. DevEducation courses helped me create a huge foundation of knowledge, practice a lot, and participate in hackathons with teams from different countries. I currently work for WizardsDev in a QA/AT role. Remember: no matter who you were and what you've done before, set yourself a goal and build your own successes!
Most frequently asked questions
The course is taught in Russian. English IT terminology is used.
At the end of the course, you will receive a certificate confirming your qualifications.
The training takes place in an online format. You can study at any convenient time.
Courses are taught by subject-matter experts with more than 5 years of experience, as well as current employees of partner IT companies.
The grant holder has no legal or financial obligations to the academy. You have the right to refuse to use the grant or to use it to take another course.
The program can be found at deveducation.com in the "Courses" section. You can also leave a request and we will tell you the details over the phone.
Leave a request on our website, we'll call you back and help you choose the right field.
Go to deveducation.com, choose a course of interest, and look through the description of the ideal student. From it, you will learn what knowledge will be useful for getting a grant.
After taking
UX/UI designer
course, you will be able to work immediately as a junior
UX/UI designer
, design user interfaces and visualize applications and websites.
Yes, all classes are held online.
If you received a grant, you will have a contract with you that specifies the name of the course and the number of study hours. Also at the end of the course, you will receive a report on the work done.
Yes, in as little as 4 months, with up to 2 hour a day of study, you will have an in-demand profession.
We are a non-profit project, and we try to make sure that every interested student gets a training grant. A student's desire for a grant means a strong passion for the IT industry. We support people who are enthusiastic about the idea of becoming professionals.
The price of the course when you get the grant is symbolic. It is simply a filter against unscrupulous students and an indicator of the seriousness of the student's intentions. We don't make money on selling any course. Our benefit is to supply IT companies with high-level specialists — much higher than what job sites or HR services provide.
We give the highest quality training in the market of IT education in terms of getting a profession. The content of the training programs is initially focused on the real TOR of modern IT companies. We know exactly what you need for employment.
We agreed with the partner companies to allocate money for training. This made the courses accessible to any interested student. Even though we meet the demands of business, we play completely on the side of the student in terms of the learning process.
Other courses
A Prompt Engineer enhances AI language models such as ChatGPT. They create specific instructions or prompts to generate desired outcomes. AI is becoming increasingly indispensable in all business domains, and as a result, there is a growing demand for engineers who work with artificial intelligence. Enroll in the course and master one of the most innovative and sought-after professions of our time! Prompt Engineer
UX/UI designers are some of the most in-demand IT professionals. They design user interfaces and visual elements of applications and websites, striving to make them convenient and aesthetically appealing for the user. Join a UX UI design course and master this in-demand profession from scratch! UX/UI designer
The Python developer creates powerful yet user-friendly computer applications and websites using the Python programming language. This language is becoming increasingly popular in the software industry because of its flexibility. Python is easy to learn, even if you've never programmed. Python Developer
Protecting enterprise information assets is a top priority for corporations and businesses of all sizes and in every sector of the economy. Despite the high demand for this profession in the IT field, it is available to people without a technical background. Take the Cybersecurity Specialist course and get an in-demand profession! Cybersecurity Specialist
Learn to design, develop, implement, and maintain Java-based programs, components, and services. Integrate data with user interfaces to create business applications for any enterprise, from e-commerce to e-learning and all aspects of the digital transformation movement. Java Developer
The project manager is probably the most important person on the project team. Virtually every successful business employs project managers to organize and execute projects. By 2024, project management jobs are projected to grow by 6%. Enroll on a course to take your place in a growing market! Project Manager
The task of the QA engineer is to test new software and give it back for improvement if it does not meet the stated requirements. No software product is launched without quality assurance and functionality testing. Master the profession of QA Engineer, and you will always be in demand in the IT market! Manual QA Engineer
QA Automation Engineer is a specialist who ensures the quality of the product and monitors all stages of development from idea to release. This profession has the competencies of both a tester and a developer. The QA Automation Engineer is involved in all development processes: from the preparation of standards and requirements to the development of the product itself, and also owns manual testing and writes scripts to automate this process, reports problems, and oversees their fixes. QA Automation Engineer
Frontend developer creates the visible part of websites and applications, as well as develops interfaces for complex services — task schedulers and messengers. Create attractive and user-friendly interfaces using tools such as HTML, CSS, and Javascript, as well as advanced technologies such as JQuery, Angular, and React. Frontend Developer
DevOps engineers are in high demand because this field of software development is constantly growing. New DevOps tools and platforms are emerging in the market, and companies are looking for engineers who understand these processes and can support them. The demand for DevOps engineers is expected to grow by 24% by 2026. DevOps Engineer
Azerbaijan
Ukraine
Kazakhstan
Latvia
Lithuania
Estonia
Other
India
Prompt Engineer
Teaching language: Russian
This course will teach you how to create, improve, and effectively utilize various types of artificial intelligence.
More details
UX/UI designer
Teaching language: Russian
UX/UI design course will help you to master a new profession from scratch. You will learn how to design user-friendly interfaces and visualize prototypes of websites and applications.
More details
Python Developer
Teaching language: English
The course will teach you how to create powerful and user-friendly websites and software using the Python programming language.
More details
Cybersecurity Specialist
Teaching language: English
The course will teach how to identify cyber threats and security breaches in networks and computer systems, as well as identify standards for upgrading hardware and software to prevent security breaches.
More details
Java Developer
Teaching language: English
The course will teach you how to design, develop, implement and maintain software in the Java programming language.
More details
Project Manager
Teaching language: English
The course provides fundamental knowledge and skills for project management that meet the international PMBOK standard.
More details
Project Manager
Teaching language: Russian
The course will teach you how to lead a development team and lead IT projects from scratch: from requirements gathering to successful release and subsequent project support.
More details
Manual QA Engineer
Teaching language: Russian
A hands-on course covering all the basic concepts of manual software testing. It consists of an introduction to manual testing and the basics of automation.
More details
QA Automation Engineer
Teaching language: Russian
This course is an introduction to test automation for web and mobile applications and APIs. Includes a study of the C#, SQL and BDD approach languages.
More details
Frontend Developer
Teaching language: English
The course is an introduction to modern web development using JavaScript, HTML, and CSS.
More details
Frontend Developer
Teaching language: Russian
The course is an introduction to modern web development using JavaScript, HTML, and CSS.
More details
DevOps Engineer
Teaching language: English
The course is an introduction to DevOps methodology and will teach how to deploy applications, work with cloud technologies and source code libraries, and organize continuous integration and delivery.
More details
Fill out the form and learn more about how to build a career in IT with DevEducation!
UX/UI Design Course
At the time of global digitalization, UI/UX design is considered one of the most promising and popular professions. It's hard to imagine any IT project or startup that would not involve a specialist developing visuals and functionality for the digital product. That specialist is the UX/UI designer. With the right level of knowledge and skills, they are able to create a high-quality website or application from scratch.
UI UX design courses
are a great solution for anyone interested in making money by developing digital products for various companies, marketplaces, and trading platforms. After you finish your studies, you will gain the basic knowledge and practical skills sufficient to qualify for a high-paying job.
What is UI UX design and what are UI UX designers responsible for?
The rapid digitalization of various spheres of life has led many people to wonder
who UI/UX designers actually are
. In a global sense, a UI/UX designer is a specialist engaged in the development and design of a digital product. They are responsible not only for its visuals, but also for its overall design. It is up to them to determine whether the interface of the site or application will be user-friendly. They develop the product in a way that ensures that all of its components are logical and do not contradict each other.
Specialists in this field create websites and desktop or mobile applications. The UX designer's main task is to make a digital product as attractive to users as possible, compelling them to perform the target action (for example, buy the app, download it on their gadget, place an order on the site, etc.).
The UI designer
is responsible for the visual component of the digital product, while the UX-designer handles its functionality.
The UX UI designer
is essentially a Swiss knife among professionals. Their key task is optimization. This designer has a number of interrelated or highly specialized skills, performing a wide range of professional tasks. If you want to learn how to design user-friendly digital products, sign up for
the DevEducation UX/UI design course
. This is a great solution for those who want to move from a general concept of digital products to their practical development and implementation.
What skills can the UX/UI design course teach me?
DevEducation's UX UI design courses offer a convenient and affordable training format that is much cheaper than full-time education. By taking the course, you will learn how to:
Analyze the target audience across a variety of parameters, from gender to the goals of using this digital product.

Conduct user surveys.

Communicate with customers using a variety of research and analysis methods.

Conduct quantitative and qualitative research, construct hypotheses, and validate solutions to develop a high-quality product.

Understand the principles of UX

UI design

.

Work with well-known digital technologies and tools.

Use best practices and guidelines to develop different clickable versions of the digital product, based on customer requirements.

Find ideas and think through design concepts.

Create interaction processes between the potential user and the site, software or application.

Work with color to match current trends.

Properly present the product to real customers.

Carry out usability tests and make changes based on their results.
DevEducation's courses will show you
what a UX UI designer should be able to
do and what qualities they should have. You will explore all stages and processes involved in creating a UX project, see the life cycle of a digital product, and master the basic theory.
After taking the
UI/UX
design courses, you'll be able to work closely with technicians, clients, and business partners using popular software tools.
Perks of DevEducation's UX/UI design courses
This training format has a wide range of advantages:
A comprehensive approach, covering all aspects of UI/UX design

Practical classes that include using current technologies, techniques and tools.

Convenient remote learning schedule.

Coach feedback: sharing experiences and useful recommendations.

Careful mistake revision and material review.

Networking with experts and experienced UI/UX designers

.
With these UX/UI design courses, beginners will get the essentials for an easy start in the profession, and practicing IT specialists will expand and improve their existing knowledge.
The training curriculum at DevEducation's online
UX/UI design courses
is interesting and diverse. The knowledge and skills gained will help you climb the career ladder in IT. The courses will be useful for people who specialize in the creation, implementation and management of digital products in various areas.
Who will benefit from DevEducation's UX UI design courses?
DevEducation's UX UI design courses are a great opportunity to master sought-after digital tools and techniques, allowing you to work with real customers by relying on current trends. After training, you will learn how to build a perfect design layout for a website or application, and how to understand the customer and their wishes.
This training format is appropriate for:
Newcomers to UX design, people who want to learn how to become UX UI designer and master the full cycle of digital product design.

IT specialists who want to learn a new profession.

Other professionals who aim to change their occupation in favor of more profitable and promising work.

People who want to develop critical and creative thinking, learn how to work in a team.
If you work in IT, you will definitely be interested in exploring UX UI design. Course students learn how to work with clients, properly process the information available, and use it to create their own digital product. UX/UI design training with DevEducation cuts out boring and uninteresting theory and amps up practice to the max. The learning process is aimed at honing practical skills (goal setting and time management) that will benefit you and help you stand out from other job applicants.
If you are looking for an interesting and challenging profession where a creative approach prevails, then UX
UI design is the field for you
.
This is an industry where the flow of jobs never stops. With fierce competition and global digitalization, every company is looking to move its offline operations online. This requires a unique website for the business. By completing DevEducation's UX UI design course, you can change your life and find a relevant and well-paid profession.
Our course provides the most useful information on the subject. All this helps the UX/UI designer to create unique design layouts that will be memorable, convenient and easy on the user's eyes.
From the very first class, you will dive into the fascinating world of UX/UI design. You won't have time for lengthy warmups and boring theory. DevEducation's courses are intensive, so you should be prepared for a lot of class assignments and full immersion in the work process.