About us
DevEducation International IT College is a non-profit education project. The aim of the project is to share professional skills with motivated and interested people all over the world, so that they can obtain a high-paying profession in the shortest time possible.
Education grant
Each DevEducation student will receive an education grant (85% of the course cost) if they qualify after a satisfactory course interview.
Internship
Each student has training in a virtual laboratory and an internship on a real project.
87%
are employed
by the end of the program
80%
of students came by
the recommendation of friends
3000+
hours of practical
lessons
"Do you want to be someone? - Be! "
That was the motto of the gifted programmer and professor Vadim Gontsov. In his 20 years as a teacher, he introduced the world of IT to hundreds of new students. His wide experience and extensive knowledge marked the beginning of a new approach to education. Vadim became a source of inspiration for the whole DevEducation project.
Learn More
Our team
Yakov Livshits
Founder of the DevEducation project
Businessman and investor. Head of large companies in Israel, Canada, and the U.S. His corporation is comprised of over 2,000 employees all over the world. Graduate of Oxford University and Technion. Studied complex systems science at NECSI. Master of Natural Sciences in Software Development.

Jane
DevEducation Project CEO
Graduated from PFUR University (International Economy and Business Faculty). Worked at Coca-Cola as a marketing and advertising specialist and taught in international corporations and schools. She now lives in the U.S. and manages several international projects in education and IT.

Maksim
Course Teacher .NET (C#)
Experience in teaching programming and creating educational programs for more than 6 years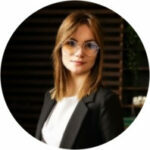 Ekaterina Kislova
Product owner
She has been working in the field of education for over 4 years. Engaged in the management, creation, and improvement of educational courses. Launched 3 online educational courses in 6 months.
Fill out the form and become one of the successful DevEducation graduates!